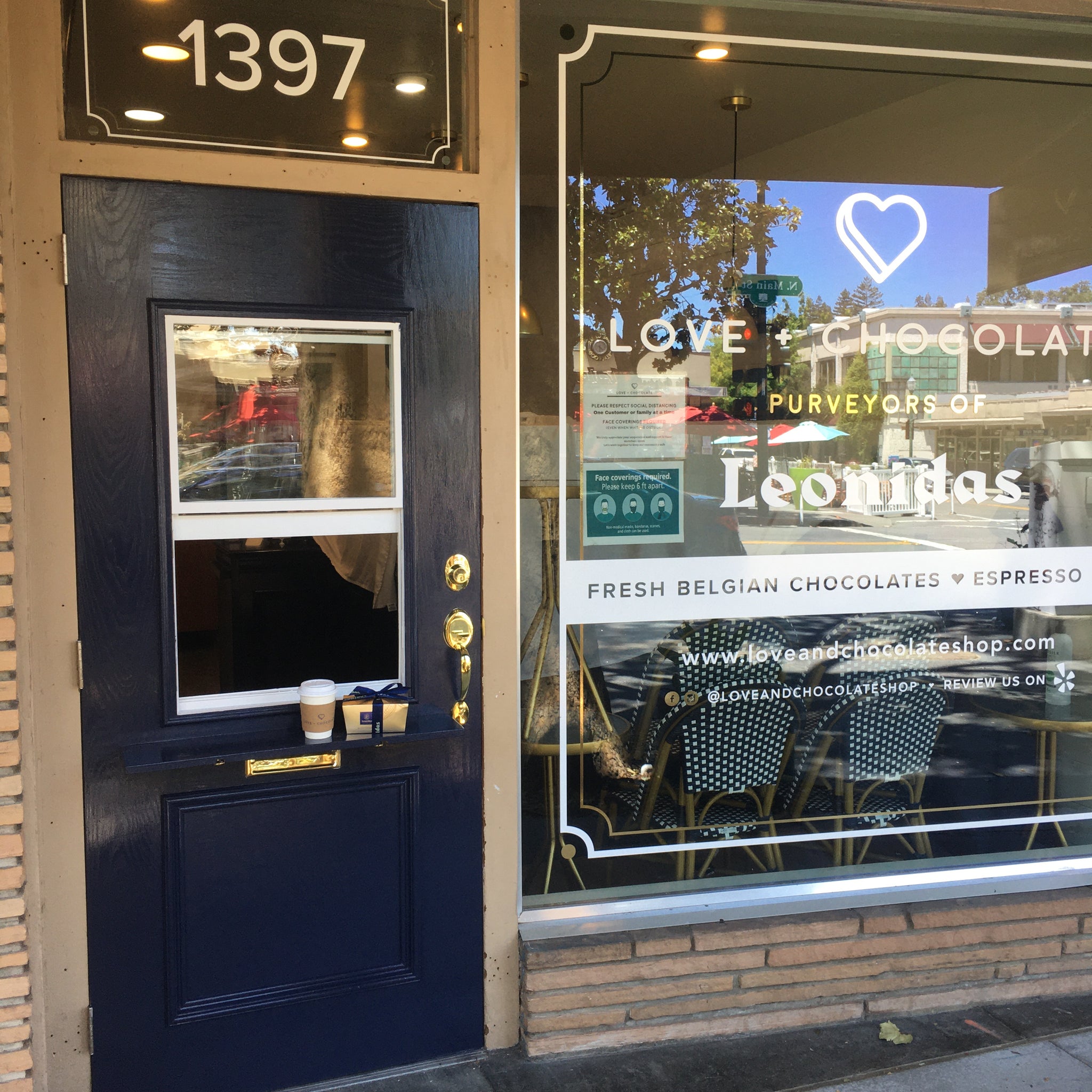 Our New Walk-Up Window
See the before and after of how we turned the front door of the shop into an inviting walk-up window! In this crazy time of COVID the rules for indoor shopping and dining are ever changing. While our store is open now (at the date of this blog post), who knows what tomorrow might bring?
So to be prepared, we wanted to create a walk-up window that we could use to still be able to serve our customers the delicious coffee and incredible chocolates that you really need to help you through this challenging time. Follow along below to see the transformation.
---
---
STEP 1 - DESIGN
---
The real first step is to come up with the idea...but then the next really fun part is trying to figure out exactly what it should look like. Pinterest is always my go-to for design ideas, and I found this photo that was closest to what I wanted. This is obviously a true walk-up window (meaning that it is actually a window and not a door). Since the only space we have available to do a walk-up is at the door, we modified this drawing to make it a door. I marked the original idea up with ideas for how it could be a door, what kind of window we wanted, room for a logo, etc.  and then we got to work.
---
STEP 2 - BUILD
-
We are super fortunate to know a great carpenter, David Mosby (you can reach him at builtinwoodworks@hotmail.com) who built all the beautiful cabinetry in our shop. He is an exceptional craftsman, a bit of a perfectionist, and therefore the right guy for the job. He built us this gorgeous door from scratch in a couple of weeks. It is solid Ash, and we made sure it met all ADA requirements too.
---
STEP 3 - PRIMER
The least glamours part of the job! The worst part is all the taping off. BUT it's a key step in having your project turn out well, so you can't skimp on this step no matter how much you hate it. I really hate it.
But then you get to start painting, even if it's only primer. 
---
STEP 4 - PAINT!
-
-
Woohoo! This is the fun part! I love painting and since Kent and I worked on this project together, it went really fast. He took the inside of the door and I took the outside. It took us about 3 hours to put 2 coats on and then a little more touch up at the end. 
Then the hard part is waiting for the paint to dry before you get too excited and pull the tape off too soon. So we headed to Broderick's for burgers to fill the time and our tummies.
---
STEP 5 - FINISHING TOUCHES
-
Luckily it was a hot dry day and the paint dried pretty quick. We did have to touch up a few spots though, so we did some clean-up around the shop until it dried some more. Then we got to pull the tape off and check out our final product!
---
STEP 6 - ADMIRE YOUR WORK
Such an important step! Don't forget this part!
We are very happy with how it all turned out. The only thing left to do is to add our heart logo into the bottom panel on the door. (It will be like the one in the window only a little smaller).
We love that we could bring our brand colors more to the outside of the shop by painting the door our signature deep Navy Blue. And you know if you've been in the shop that White and Gold are our complementary colors, so we were able to bring those colors into the door too. We think it looks great -- and it's super functional too! It has a little shelf we can pop-up when it's in use, or it folds down when we are just using the door as, well, a door. Isn't it beautiful? :)
---
STEP 7 - PUT IT TO USE
-
We are super excited that we can now share our chocolate, coffee and other delectable treats with all of you, even if we have to close the shop to indoor guests. This solution allows us to keep employees and customers safe during times when the County feels we need to take stronger precautionary measures; and yet still get you the things you need to make it through this crisis -- Chocolate & Coffee!
This was a super fun project! Head on down and check it out!
Hope to see you soon!